Hiring software developers? Find out what really works
With a global software developer shortage predicted to get worse, hiring software developers has become very difficult. Get expert advice on what works.
Daniel Theobald, CTO of medical robotics maker Vecna Technologies Inc., always had strict standards when it came to hiring software developers: big name college degrees, internships and, perhaps, industry experience.
Today, though, with a worldwide shortage of software developers, Theobald is now looking at high school students.
No one is more disconcerted than he is: "In the old days, if they didn't have a university degree from a top-notch school, I wasn't interested," said Theobald, whose company is based in Cambridge, Mass. "Now if there's a hot-shot graduate from high school looking for a job, I'm going to consider them. I have to in order to compete. But I have not fully embraced this, either."
For Theobald and every manager looking to hire a software developer today, it is the worst of times. Competition for developers has never been higher, in part because there is accelerating demand from nearly every industry, not just traditional software businesses. For example:
In the last 12 months, demand for developers has jumped 89% nationwide, based on job postings data compiled by research firm Burning Glass in Boston.
Almost three out of 10 CIOs recently surveyed by London-based worldwide recruiting firm Harvey Nash said lack of software development skills was holding back their IT strategies.
IT industry association CompTIA's recent survey of human resources managers cited the shortage of skilled employees as today's top business challenge.
[Developers] want to write code, but they want to write code that matters.

Jeffrey Hammondvice president and principal analyst, Forrester Research Inc.
So hiring -- and retaining -- software developers today requires throwing away the rule book and rethinking everything. It takes creativity just to find candidates, let alone hire them. And even then there's no guarantee they'll stay long. "I've never seen a hiring market like this in all the years I've been in the business," said Steven Robinson, general manager at executive recruiting firm Lucas Group, based in Atlanta. "Be prepared to change the way you do everything."
Or, to think about it another way, a skilled developer in London can, on average, get multiple job offers in just 24 hours, said Bhavin Joshi, associate director at Harvey Nash. That's a wake-up call for companies that are used to doing things the old way, Joshi said. "This shows how quickly you need to move in this market to not lose out."
Study your target audience
If you want to hire developers, get to know them, and that starts by leaving the basement-dwelling, video-game-playing stereotype at the door. They take their craft seriously: More than 70% of developers actually write code when they're not at work, either for personal projects or to learn new skills, according to a recent Forrester Research Inc. study.
They also are likely to socialize with other developers. "The software development community is more closely knit and more engaged than any other facet of technology," Joshi said. And while developers generally love their jobs, they're also socially conscious, said Jeffrey Hammond, vice president and principal analyst at Forrester, which is based in Cambridge, Mass. "They want to write code, but they want to write code that matters," he said. "They want to spend time volunteering and making life better."
Therefore, money alone may not be enough to hire or hang on to a skilled developer, warned Robinson. "You really have to remember developers are going to look at the culture of the company and think about a much broader set of factors than just salary."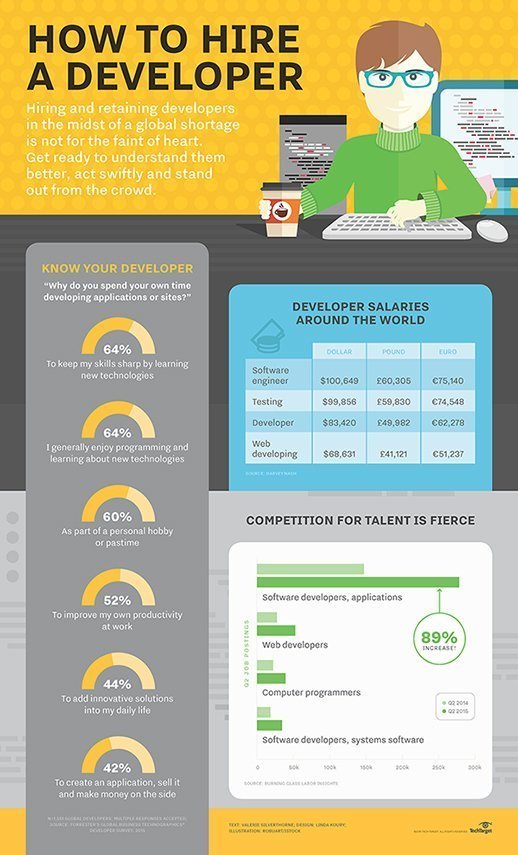 That is the main reason Vecna launched a bold "Code something that matters" hiring campaign in the Boston area looking for developers who were interested in more than just a paycheck. Using ads on the subway system and many local university campuses, the company told potential candidates about 10 reasons why they'd want to work there, from being able to volunteer on company time to free food, a transit pass and the opportunity to work with like-minded people.
Although Theobald says hiring software developers remains a challenge, the campaign really brought in the kind of people he wants most. "We really pushed the concept of doing good in the world and being part of a team that's solving tough problems and really giving back," he said. "People want to be part of that for a really long time, and we don't see the [turnover] churn that other organizations do."
Find them where they are
Running an ad on Craigslist just isn't going to cut it any more, Robinson said, because skilled developers are probably already getting up to 15 voicemails a day from recruiters -- and he speaks from experience. He recommends companies have a long-term relationship with a head-hunting firm, but there are other options to consider. Attending weeknight developer gatherings offers a great opportunity to soft sell a company's culture and values. Internships are another possibility, though Theobald said even that has become competitive. Vecna used to hire interns only in the summer before their senior year; now it's challenging to get freshmen as interns.
Or there's the strategy Atlassian uses to hire new developers. The software maker, based in Sydney, Australia, literally goes to where the developers are, to sell them on the company experience, said Jeff Diana, chief people officer at Atlassian..
Here's one example: The company rented old Volkswagen "bug" vans, surfboards and surf shops around Australia recently with a goal of hiring five developers in two weeks. The hiring group -- which included recruiters and HR people -- traveled around, surfing, meeting people and "condensing the process, connecting personally and getting the first few steps of hiring done right there," Diana said.
That personal connection, or what Diana calls "the human touch," is at the heart of how Atlassian sells itself to the marketplace. Between the "buzz" about its mobile surfing tour and media coverage, the company ended up with "a great pipeline" and met its goal of five new hires, he said. "Actually going to the candidate and meeting them where they are versus the cold electronic meeting is really working for us," Diana added. He acknowledged the company had hiring challenges in a couple of areas, but said overall it has not been hard hit by the shortage.
Get ready for "the scarcity tax"
Software developer salaries have jumped nearly 17% over the last two years, according to a recent Foote Partners IT Skills & Certifications Pay Index survey. A Harvey Nash survey shows an even bigger increase: The average software engineer is making $83,117 this year, a more than $27,000 jump over last year.
Robinson called the salary bump "the scarcity tax" and said companies need to be prepared with a flexible hiring salary -- because most skilled candidates get multiple offers, meaning there can be a bidding war -- and with a war chest of raises, bonuses, stock options and other perks to be used in case a ;valuable developer gets another offer.
And for those companies working with headhunters, expect to pay a premium of 35% or more on top of the usual hiring commission when looking for in-demand skills like C++, Java, mobile or cloud.
Hanging onto developers for dear life
Hiring software developers is hard now, and retention can be even harder. Whether motivated by money or by factors like location -- a big draw for Vecna since the company is steps from a popular subway stop -- or work/life balance, developers are nearly unanimous in their desire to do challenging work.
It's far easier to hire a candidate for exciting "greenfield" work, Hammond said, but when that's done and job duties involve maintenance, the developer is more than likely done, too.
Structuring development in a way that keeps everyone happy and moving forward can be tricky, he said. And it's important to remember that unlike a lot of other IT specialties, tight-knit software developers talk to each about salary and perks. "It's only going to take a newbie a month or so to figure out if he or she is underpaid," Joshi said. "That's when they start to look around."
Perhaps not surprisingly, Atlassian addresses this issue with the same "human-touch" approach used when hiring. The company gives annual equity awards to 15% to 20% of employees, but what really makes the most difference, Diana said, is the personal note written by the manager on high-end card stock and signed by the founders, oftentimes accompanied by a bottle of champagne. "We have an-everyone-is-an-owner culture here," he said. "And we encourage peer-to-peer recognition, too. These really high-touch efforts drive retention. And they've really allowed us to weather the storm."