Get ready software test professionals -- big changes are coming soon
As companies move to BizDevOps, the role of software tester is going to change dramatically. Here's a look at what new skills and attitudes will be needed in the future.
With 2017 on the horizon, QA and test professionals around the world need to reconsider what it means to be a software...
Continue Reading This Article
Enjoy this article as well as all of our content, including E-Guides, news, tips and more.
tester.
With nearly 70% of testers thinking they'll be automated out of a job in 10 years or less (according to the just released Harvey Nash Technology Survey 2017), it's clear the looming threat of automation is a major concern. But that's just the beginning. Companies embracing DevOps today will be moving to the next gen BizDevOps at some point, and that will mean mapping business needs directly onto the software development and deployment process. In a BizDevOps world, a test professional could be a business analyst, a mini data scientist, an Ops trouble shooter, a developer -- or some hybrid combination of all of those roles. Testers are going to be asked to not just up their game but actively learn new skills -- and in some cases dramatically different skills.
These changes come at a time when demand for QA and test professionals is already lagging 46% behind overall IT job demand, according to data from market research firm Burning Glass Technologies in Boston.
"The tester's world is really being turned upside down," said Stephen Elliot, IDC's vice president of research, DevOps.
"Now they need to collaborate, have some development skills, be able to automate everything quickly and they have to understand what the customer needs," he said. "They are going to have to act, and think, and collect information, and test, and a lot of other things, all in a very short time."
Testers must learn to combine skills
A desire for flexibility and new skills is already showing up in want ad job postings across the country, according to Will Markow, manager of client strategy-analytics at Burning Glass.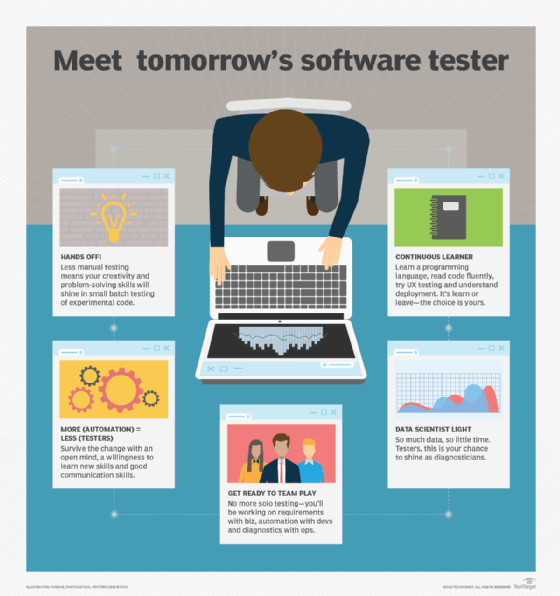 "Today testing is often being incorporated into other roles or testers are starting to require additional skill sets," he explained. "It's becoming a hybridized role. It's not just one function any more. Employers are looking for a broader swath of skill sets related to development from their testers."
That's certainly what John Jeremiah, digital research team leader at Hewlett Packard Enterprise, is seeing in the marketplace today. "Testers have to be part test, part QA lead and part dev," he said. "That's what their DNA is going to look like."
Also in their DNA: data analytics. With new application performance monitoring tools looking at all stages of the software development lifecycle, there is going to be too much information and not enough people to process it, predicted Tom Lounibos, CEO of SOASTA Inc., an APM provider in Mountain View, Calif.
Testers have to be part test, part QA lead and part dev. That's what their DNA is going to look like.

John Jeremiahdigital research team leader, Hewlett Packard Enterprise
"Testers can start by owning the process of simulation," he said. With that skill, a tester can see performance impacts throughout the process, which then becomes a ticket to the table in the "control room" where all the important product decisions are made.
Lounibos, who strongly believes that companies must move to BizDevOps next, sees a vision in which business people, test professionals and developers are all watching the data and analyzing the conclusions. Testers, with good problem solving skills, need to take that mindset and merge it with a data science perspective to ensure they're contributing fully.
Data science doesn't grab everyone
But not everyone is so optimistic about testers turning into mini data scientists. "I just don't think testers will be the first folks business managers think of when they think of getting information and making decisions," Elliot said. "I think it's going to depend on the business."
What will also depend on the business is whether testers end up working as much, or more, with the operations side as they once did with developers. Too much focus on testing the code has left the production side of things to rely on chance to work, said Chris Baynham-Hughes, head of DevOps at Atos, a consulting firm based in France.
"Testers could be potentially helping out (on the ops side) and figuring out what needs to be tested," Baynham-Hughes said. "Before now, what we're doing is having a haystack and putting a needle in it, so when the developer puts code in that is broken three weeks later, there's a lot of finger-pointing. We need to be testing all the way through, so if something is breaking we know where it is."
Rob Stroud, principal analyst of infrastructure and operations at Forrester Research, agreed testers must be ready for all sorts of brand new things. "Are they ready for different delivery vehicles?" he asked. "And are they ready for the velocity of change?"
Or, to put it another way, are test professionals ready to have some fun? Andreas Grabner, developer advocate at APM maker Dynatrace based in Waltham, Mass., thinks the gloom and doom about the testing profession is completely misplaced.
"If testers help developers automate the most repetitive tests and help the whole engineering team work on automatically detecting these problems, then they can use their real potential to work on what's next," he said. "They can be part of the experimentation phase, working on acceptance testing much earlier, working with the business teams on what ideas and features to try next. They can run early tests -- pretending to be users or going out to real users -- and give early feedback and a good quality perspective."
Grabner admitted not every tester will want to do this, but he hopes many will as they have a lot to contribute. "If they automate the repetitive tasks, they are going to free up time to do much more valuable things," he said.