photonetworkde - Fotolia
What makes for good app conversion rates? Attention to detail
A just released study on performance from SOASTA shows things are looking up and the two-second load time barrier has been broken. But work is still to be done.
According to data from 10 billion user visits, consumers use their cellphones for a lot of things -- including online shopping -- but they don't like to buy anything while on their phones.
Performance management company SOASTA's latest "State of Digital Performance" report sorted through 38.3 billion beacons worth of data to understand what's working and what's not when it comes to retail, media and travel sites and applications. At a time of increasing pressure to develop more applications more quickly, the data offers a glimpse into the space where performance and user experience intersect.
Tammy Everts is SOASTA's senior researcher and evangelist, and while she's pleased that this survey shows continuing improvement in nearly every area from load times to app conversion rates, she stops short of saying there's a gold standard for companies to meet when it comes to app performance. "The gold standard really is as fast as you can make it," she said.
Take load times, for example, which go hand in hand with app conversion rates (that moment when a user actually "converts" to becoming a customer on a site or app). In this survey for the first time ever, "we've broken the sound barrier," she said, referring to the fact that 12.8% of peak app conversion rates on a desktop came from a load time of 1.8 seconds. "That's the first time I've seen it under 2 seconds."
The gold standard really is as fast as you can make it.

Tammy Evertssenior researcher, SOASTA
The progress in speeding up load times is important because even as small as a 100 millisecond slowdown can have a significant impact on bounce or app conversion rates, she said. "For retail in particular, these performance slowdowns can have double digit impact on conversion rates," Everts explained. And customers aren't inherently patient. While it's tempting to think it's just mobile customers who get frustrated and bail out of a slow loading site, the SOASTA data shows the average "bounce" rate among desktops, tablets and mobile devices is only 700 milliseconds different. "Basically just a half second separates all these bounce rates and what that tells us is that consumers have basically the same expectations for performance no matter what device they're on."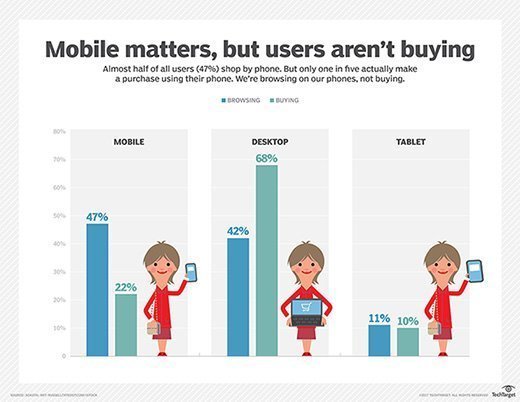 Of course, mobile is held to a somewhat higher standard. "When you're waiting for your phone to load it feels like forever," Everts said. And she thinks that's one of the key reasons that only about one in five mobile users use their phones to make a purchase. The study shows "almost half of all visits to retail sites come from mobile phones," Everts said, but apparently that's for browsing not buying. Explanations for this range from poor design to no "autofill" of information to the process taking too many steps, she said. "It can be done and we're seeing some retailers do it, but it takes work." In her experience, if a company does manage to convert a mobile user into a customer, the repeat business will come very easily.
So what's the takeaway for companies looking to improve performance? Keep at it. "Even though there's really no gold standard of performance, many think a 1 second load time could be it," she said.
"And we can get there if we don't keep stepping on our own toes. Pages too rich with media, third-party advertisements and big images are our own worst enemies when it comes to performance."
Dig Deeper on Software performance management