Rawpixel - Fotolia
Visual Studio Live Share aims to spur developer collaboration
Visual Studio Live Share enables developers to collaborate on code in real time to build safer, higher-quality applications.
NEW YORK -- Developers at Microsoft's event here last week got a sneak peek at a tool that aims to boost programmer productivity and improve application quality.
Microsoft's Visual Studio Live Share, displayed at its Connect(); 2017 conference, lets developers work on the same code in real time. It also continues to bolster the company's credibility in their eyes, delivering tools and services that make their jobs easier.
The software brings the Agile practice of pair programming to a broader set of programmers, except the programmers do not need to be physically together. Developers can remotely access and debug the same code in their respective editor or integrated development environment and share their full project context, rather than just their screens. Visual Studio Live Share works across multiple machines. Interested developers can sign up to join the Visual Studio Live Share preview, set for early 2018. It will be a limited, U.S.-only preview.
"It works not just between Visual Studio Code sessions between two Macs or between two Visual Studio sessions on Windows, but you can, in fact, have teams composed of multiple different parts of the Visual Studio family on multiple different operating systems all developing simultaneously," said Scott Guthrie, executive vice president in Microsoft's cloud and enterprise group.
The ability for developers to collaboratively debug and enhance the quality of applications in real time is extremely useful for developers looking for help with coding issues. While the capability has been around in various forms for 20 years, by integrating it into the Visual Studio tool set, Microsoft aims to standardize live sharing of code.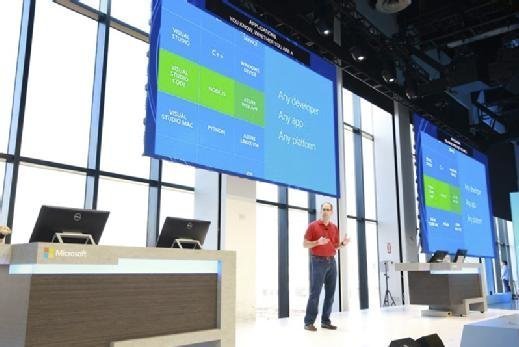 "I will be happy to see full collaboration make it to a shipping product," said Theresa Lanowitz, an analyst at Voke, a research firm in Minden, Nev. "I had that capability shipping in 1994 at Taligent."
Thomas Murphy, an analyst at Gartner, said he likes what he has heard about Visual Studio Live Share thus far, but wants to see it firsthand and compare it with pair programming tools such as AtomPair.
"[Microsoft is] doing a great job of being open and participating in open software in a nice incremental fashion," he said. "But does it bring them new developers? That is a harder question. I think there are still plenty of people that think of Microsoft as the old world, and they are now in the new world."
General availability of Visual Studio App Center
There are still plenty of [developers] that think of Microsoft as the old world, and they are now in the new world.

Thomas Murphyanalyst, Gartner
Also this week, Microsoft made its Visual Studio App Center generally available. Formerly known as Visual Studio Mobile Center and based on Xamarin Test Cloud, Visual Studio App Center is essentially a mobile backend as a service that provides a DevOps environment to help developers manage the lifecycle of their mobile apps. Objective-C, Swift, Android Java, Xamarin and React Native developers can all use Visual Studio App Center, according to the company.
Once a developer connects a code repository to Visual Studio App Center, the tool automatically creates a release pipeline of automated builds, tests the app in the cloud, manages distribution of the app to beta testers and app stores, and monitors usage of the app with crash analytics data using HockeyApp analytics tool Microsoft acquired in 2014.
"HockeyApp is very useful for telemetry data; that was a good acquisition," Lanowitz said. Xamarin's mobile development tools, acquired by Microsoft in 2016, also are strong, she said.
Darryl K. Taft covers DevOps, software development tools and developer-related issues as news writer for TechTarget's SearchSoftwareQuality, SearchCloudApplications, SearchMicroservices and TheServerSide. Contact him at [email protected] or @darrylktaft on Twitter.
Dig Deeper on Integrated development environments and dev tools