Thep Urai - Fotolia
Ionic Pro empowers developers to embrace mobile app dev tools
Low-code development options, DevOps features and team collaboration support attract an array of developers to mobile development tools, exemplified in the updated Ionic Pro.
Driven by a need for speedy app development amid broad digital transformation directives, developers of all skill...
Continue Reading This Article
Enjoy this article as well as all of our content, including E-Guides, news, tips and more.
levels must collaborate to feed an insatiable user base of enterprises and their customers. And software development toolmakers are answering the call with low-code, easy-to-use mobile app dev tools to build enterprise applications.
There are actually two converging forces at work right now, said Joe McKendrick, an analyst at Unisphere Research. Developers increasingly must understand and align with lines of business and take on a more active role in business process management and optimization, user experience and customer experience (UX/CX) design, and DevOps.
Indeed, one in five executives indicate that most applications are developed outside of their IT departments, and 76%said that's true for at least a portion of their apps, according to a recent survey from Unisphere Research and app dev toolkit maker Kintone. San Francisco based Kintone makes low-code development tools that enable line of business managers to build software that automate workflows, develop shared document repositories, construct reporting dashboards and process data without writing a single line of code.
At the same time, a new generation of business professionals with more tech-savvy employees of all ages, understand how computing can improve their work lives. These nonprofessional developers have begun to pick up low-code tools and have started to help create applications.
"Professional developers and non-developers increasingly see eye to eye on the things that need to be done," McKendrick said.
Enterprises tap into Ionic Framework
As these lines blur, it forces tools and technology providers to address these different ends of the developer spectrum, and still provide tools for teams. Nowhere is this more apparent than in the mobile market.
For instance, Ionic has tuned its open source Ionic Framework to build cross-platform mobile and progressive web applications to woo enterprises with support for teams of developers along with more aspects of the application development lifecycle, including testing.
The Ionic Framework enables developers to target native mobile apps and progressive web apps from the same code base using familiar languages and tools. Earlier this month, Ionic Pro updated its set of cloud-based services and tools introduced in August. It now supports teams to design, build, test and deliver mobile and progressive web apps across the development lifecycle -- from design and testing, to tracking errors and shipping hot code updates. The pro version includes collaborative tools to facilitate team development.
In essence, Ionic Pro overlays a DevOps veneer onto the Ionic Framework, although users who are typically front-end developers likely won't think of it in that way, said Max Lynch, CEO of Ionic. The tool lets developers collaborate on projects via a shared database, remain aware of all build activity and coding changes, build apps using a drag-and-drop design, test different versions of apps with users, deliver different releases to different user segments, track and analyze coding errors, and ship hotfixes and live updates in real time without going through app stores.
Brian Aguilar, director of product at MarketWatch, which uses the older version of Ionic's tool set, said his team has tested the recent product version, particularly features such as Ionic View, for remote testing and to allow external users to look at the app without installing it.
"That's beneficial to us because we have a small QA team," he said.
MarketWatch has considered the Ionic Pro Live Deploy feature for live updating apps. "I'm also intrigued by the Ionic Creator rapid prototyping tool," Aguilar said.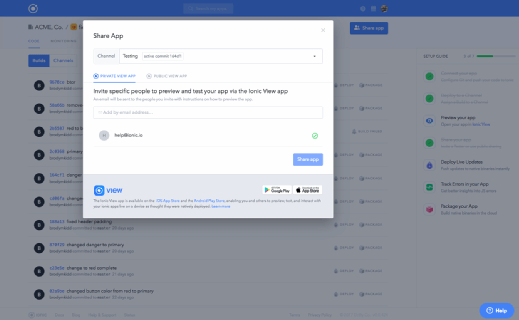 Low-code development to the rescue
Ionic competes with Microsoft's Xamarin unit and Progress Software's Telerik, among others. At the recent Microsoft Connect, Xamarin introduced Visual Studio App Center, the next generation of Xamarin Test Center, which enables developers to build, distribute, monitor and integrate push notifications. Xamarin also introduced .NET Embedding, tooling with which developers can integrate .NET libraries and user interfaces written in C# into existing iOS, Android and macOS apps written in Objective-C, Swift and Java.
Also last month, Progress Software introduced tooling for its NativeScript open source framework to build native cross-platform mobile apps. NativeScript Sidekick provides starter templates, plug-ins, cloud builds, augmented reality support and more for building mobile apps.
"Low-code development platforms such as these, increase the range of people from all professions who now engage in some form of application development," according to Unisphere's McKendrick.
[Application development] is now a part of many job descriptions or daily routines, formally and informally. ... Many people [are building] apps on company time, and that's OK.

Joe McKendrickanalyst, Unisphere Research
"[Application development] is now a part of many job descriptions or daily routines, formally and informally," he said. "Our survey found many people build apps on company time, and that's OK."
Mobile apps are the perfect target for low-code platforms, McKendrick said, because they are well-governed templates, and have set the standard and represent a huge breakthrough in low-code development. In addition, they have firm guardrails to ensure versioning, compatibility and security. Moreover, low-code tools have become much easier to use than the old power user tools including PowerBuilder and the older Visual Basic versions like VB6.
"Along with graphics, today's tools have a lot of intelligence embedded within them that address all the protocols and dependencies behind the scenes," he said.
This all comes full circle back to Ionic and its Creator tool. "I wouldn't call it a 'low-code' tool, because most low-code tools are there to broaden the reach of creators, to give tolling to nonprofessional developers to create something," said Michael Facemire, an analyst at Forrester Research. However, Ionic Creator helps to fast forward all the stages of the software development lifecycle to get a professional developer a head start, he said.
For his part, Mike Sigle, senior vice president of product development at New York City-based Napa Group, said the new Ionic View feature allows them to instantly share their latest codebase both internally and externally with just a few mouse clicks.
"We've established several channels, including Lab, where we try out fresh ideas that need instant feedback from our clients; Development, a stable branch of our latest code; Staging, where we smoke-test an app against a production API endpoint; and Production, the version users currently have," he said.
Moreover, "Ionic Pro provides us huge technology benefits, as well as business benefits," said Peter Chatzky, president and CEO of Napa Group. "We can streamline staff by having a single, smaller team develop for both iOS and Android platforms, thereby developing complex apps faster and at reduced cost. As we bring new ideas to market, Ionic allowed us to create modern apps without favoring a specific mobile platform or limiting our initial user base."
Dig Deeper on Integrated development environments and dev tools