Software testing conference spotlight: Agile Testing Open Northwest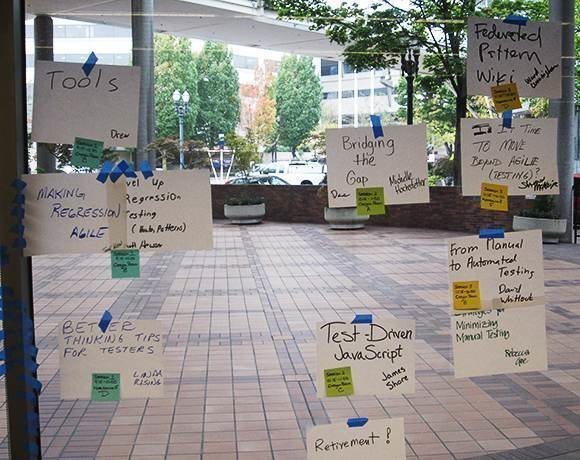 After the initial opening ceremony, it is time to propose sessions and build the conference agenda. To do this, would-be speakers announce their sessions, then place the session on the back wall. A few of the proposals shown in the photo above include "Test-driven JavaScript", "Tools" and "Level up your regression testing" (proposed by me), which was later combined with "Making regression agile."
The next step is for interested parties to add their names to the list. This allows the proposer to gauge the interest of the group. If many people are interested, the host can break the proposal into multiple sessions; if there is less interest, they can combine the session with something else. Next, the hosts pull off a "schedule sticky," which describes the room and time, from the next wall and attach it to their proposals. At this point, the conference schedule is done. The whole process takes perhaps twenty minutes.
My lesson learned is to provide not only a way to brainstorm, but also a way for the attendees to vote on what they have energy for, then sort. This is a quick way to talk about what is most relevant to most people when there is too little time and too many ideas.
View All Photo Stories