Software testing conference spotlight: Agile Testing Open Northwest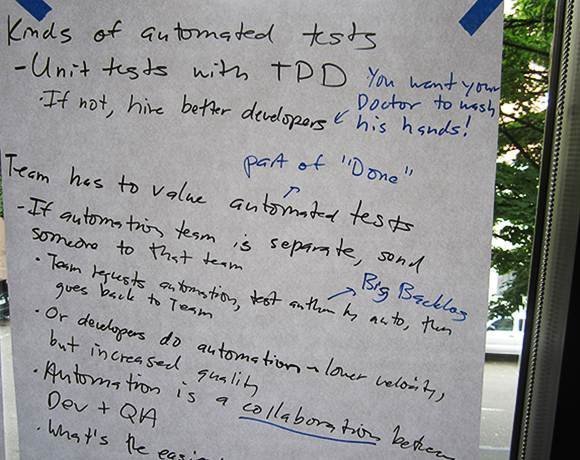 Instead of a PowerPoint slide deck created by one person weeks or months in advance, peer conferences create the value in real time -- during the sessions. The page shown above is one of three created by the session on software test automation.
The session began with a discussion of different kinds of testing, starting with unit tests created by test driven development (TDD). The actual suggestion made in the session was that if the developers are not able to create these tests, companies should hire better developers.
The next area of discussion was on what it takes to get programmers, and the greater team, to value and do unit tests. Dale Emery suggests that the team needs to define "done" and that "automated tests complete" needs to be involved in that discussion. Without that, the tests will always lag behind the production code.
Another point of conversation was who is automating the software tests. I am quick to point out that "automation" is code and makes sense for programmers to write -- they have the skills to write automation that is close to the production code, easy to extend, maintainable, and so on. That said, testers and business analysts can bring special skills and knowledge to the test process, like what features are important and how to approach testing. Our conclusion was that good test automation is a collaborative effort between developers, testers and product owners.
Beyond the overall test automation tricks, my big takeaway was the power of the poster to store ideas and reference them later. For future events, I intend to write down brainstorming ideas on a board and take pictures, which I can later share with the attendees.
View All Photo Stories