News
Stay informed about the latest enterprise technology news and product updates.
Lesbians Who Tech Summit: Not your usual IT conference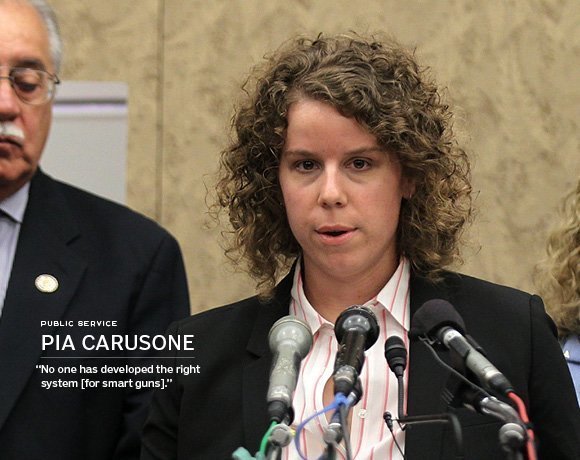 Source:
Alex Wong/Getty Images
Urging software developers to build smart gun technologies, Pia Carusone described her journey from chief of staff to Congresswoman Gabby Giffords to supporter of Americans for Responsible Solutions, a nonprofit devoted to reducing violence. ARS was founded by Giffords and her husband, NASA astronaut Capt. Mark Kelly.
Giffords survived an assassination attempt on Jan. 8, 2011, in Tucson, Ariz. At the Summit, Carusone described her joy in working with Giffords and the rough times following the shooting, in which 13 people were wounded and six others died. Giffords' head wounds led to her resignation in her third term in the U.S. House of Representatives, but she continues her public service with ARS. So does Carusone.
At the Lesbians Who Tech Summit, Carusone explained what technology can do to address gun violence, saying that the need for firearms control has never been so great. In 2015, there will be more gun deaths -- more than 30,000 -- than automobile accident deaths, she said.
Several types of smart guns have been developed using fingerprint recognition, RFID chips and other technologies. However, these technologies have been rejected by most gun owners and gun rights organizations like the National Rifle Association, and even by anti-violence groups, Carusone said. Gun rights groups think smart gun technology will restrict ownership of firearms, while their opponents -- such as the Violence Policy Center -- say such safety measures will increase ownership.
As of yet, "no one has developed the right system," said Carusone. She told LWT Summit attendees to "spend time in your careers … developing technologies that gun users can get behind."
Forging links between government, businesses and citizens
Hillary Hartley pitched working for 18F, a General Services Administration technology group created to build user-centric digital government services. Digital government applications ensure more effective use of tax dollars and transparency about government spending, said Hartley, 18F co-founder and deputy executive director.
Hartley previewed 18F's new procurement tool, Oasis Discovery. (A beta release came out on March 4.) Discovery was developed using Agile methodologies, open source software and open data, Hartley said.
Oasis is a government-wide acquisition contract that offers professional services -- in financial management and other areas -- to businesses.
In making her pitch, Hartley stressed that developers who join 18F won't have to move to Washington, D.C. Hartley lives and works in San Francisco.
On the next page, San Francisco-based tech innovator Marc Benioff pitches IT volunteerism and giving.
View All Photo Stories