News
Stay informed about the latest enterprise technology news and product updates.
Lesbians Who Tech Summit: Not your usual IT conference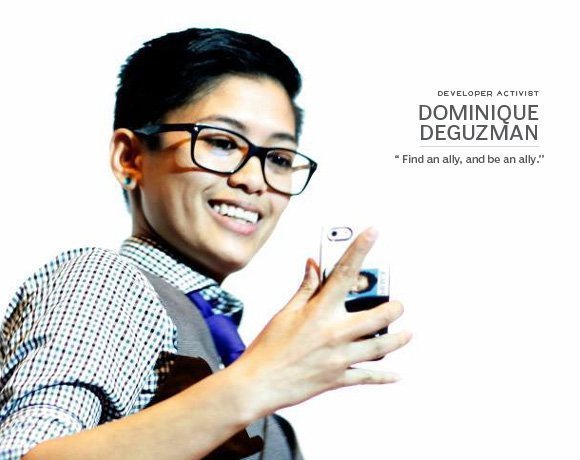 Source:
Dominique DeGuzman
In 2014, diversity reports from tech giants Yahoo, Google and Facebook showed a workforce that's almost three-quarters male and two-thirds white. This imbalance has fostered a "brogrammer," culture, which promotes a macho attitude in IT so common it's defined on Wikipedia, said Dominique DeGuzman, software engineer for Twilio. She and other speakers described the impact of inequality in IT during the Lesbians Who Tech Summit program.
Most people don't realize that tech culture has changed in this millennium, said DeGuzman. Once, IT guys were the nerds, but after the profession became lucrative, the male demographic changed. "Now it's all those frat guys you thought you left back in college," said DeGuzman. These brogrammers "are packing their flip flops and … beer and moving into the cubicle next to you." (She noted that all men are not brogrammers, and some have been her best mentors.)
"Monoculture is bad for business," as it drives away good employees, tech consultant Adria Richards said. Tina Lee, founder of Mother Coders, agreed, noting that productivity will increase when IT companies "empower women [employees] to focus more clearly on getting work done, rather than having to deal with the politics around their gender and sexual identity."
IT workplaces are hostile to women in overt and subtle ways, Summit speakers said. Sexual harassment remains common in the IT business, said Richards, noting recent news about GitHub and Tinder complaints. Also, attendees were buzzing about Ellen Pao's sex bias case against a tech venture capital firm.
More subtle are the jokes, slurs and exclusion at women co-workers' expense -- all forms of micro-violence. "Micro-violence in the workplace … gets in the way of getting the job done," said Aliya Rahman, program director at Code for Progress. She and others gave many examples of daily micro-violent occurrences, including being expected to provide refreshments, being excluded from activities with peers, not being included in meeting invitations, being told a contract-winning report was "cute," and more.
Mothers suffer many slights at work, Lee said. Some men imply that mothers are not as committed to work as men are, or that work is just a hobby for them. "Mothers have an economic imperative to work," just as men do, she said. Yet, a woman who has to leave work to pick up a child at school is dissed, while a father who does the same thing is considered a hero.
DeGuzman described everyday micro-violence toward women that the brogrammer culture encourages. Belittling a woman programmer's capabilities is common. For example, a male co-worker told her not to worry about a difficult programming issue, saying someone would do it for her because she's pretty. A male co-worker called DeGuzman's promotion over him a "hat-trick," because as a woman, person of color and gay, she's a "diversity goldmine." This is an attitude born of assumed privilege, where the privileged feel slighted by gains by those outside their class.
The diversity imbalance is improving in some IT sectors, but not others. When Summit speaker Megan Smith became U.S. CTO, she found herself working with the most diverse team of her career. After taking that post, she went to the Computer Electronics Show and was reminded "just how bad the industry is in terms of diversity." She urged IT company executives to hire and help women and people of color advance.
Next, LWT Summit speakers who are the minority women members of their IT teams give career advice for women techsters and computer industry employers.
View All Photo Stories