News
Stay informed about the latest enterprise technology news and product updates.
Lesbians Who Tech Summit: Not your usual IT conference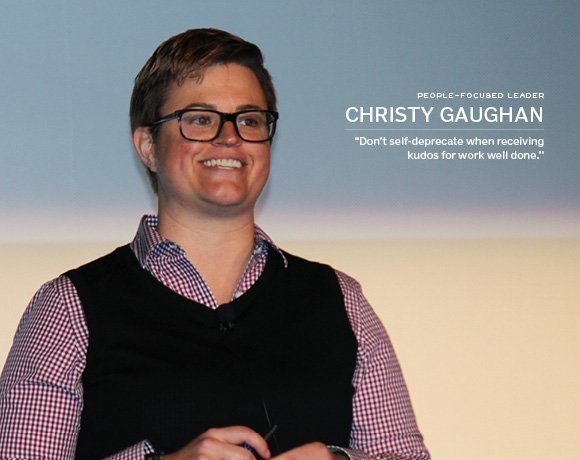 Source:
Jan Stafford/TechTarget
While striving for improvements in the IT worker gender imbalance, women in tech often have to look out for themselves. So, IT career advice was a constant in every session at the recent Lesbians Who Tech Summit in San Francisco. IT veterans such as Christy Gaughan, director of marketing science at Genentech, shared approaches for improving workplace culture, covering hiring practices, creating cultural change and learning leadership skills.
Some highlights include:
Be the driver of the work you do, said Gaughan. She always looked at herself as a quiet "math geek," but she also wanted her opinions about how work should be done to be heard. So, she stepped up into a leadership position so that she could be "in the room" when decisions that affected her work were made.
Find an ally, and be an ally, said Dominique DeGuzman, software engineer for Twilio. "It's much easier to get back to work after these slights when an ally can echo in that something wasn't right."
Speak out when you see a better way to get a project done. When a product manager comes in with impossible application requirements, DeGuzman responds with a clear project plan that delivers what is possible. Diplomacy is required, but failing to speak up can lead to project failure.
Don't self-deprecate when receiving kudos for work well done, said Gaughan. Demurring praise is a habit common to women and not men, and one she had to change in herself.
Employers should note that businesses which accommodate personal and family responsibilities have less turnover than those that don't, said Adria Richards, network engineer and DevOps consultant.
Employers should be aware that women are put off by masculine or aggressive wording -- like "Take over the world!" -- in job descriptions, said Richards. Also, write shorter job descriptions for open positions, as laundry lists of multiple requirements discourage many qualified people from applying.
Overall, speakers urged attendees to advocate change in workplaces that are culturally unfriendly to women. Get support from allies at work and organizations that support diversity. It's high time that macho work cultures were demolished, said Mother Coders founder Tina Lee. "It's 2015, and I can't believe at this point in history … people still have to fight for diversity and equal pay in the workplace."
On the next two pages, we'll discover two tech innovations women have advanced. We'll start with the user experience (UX) testing and research work done by Indiegogo's lead researcher, Aga Bojko.
View All Photo Stories