News
Stay informed about the latest enterprise technology news and product updates.
The average software developer salary is (mostly) going up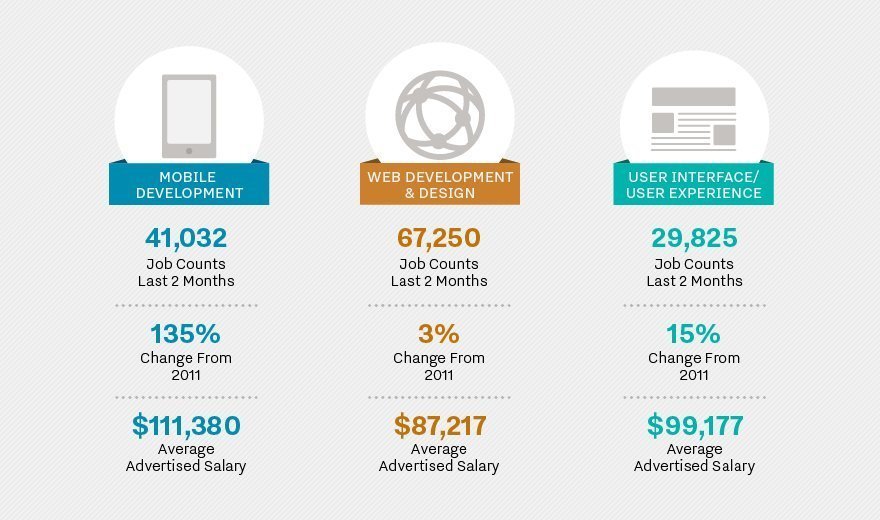 Source:
Christopher Seero/TechTarget
Designer:
Christopher Seero
What you don't know really does matter. Even with a worldwide developer shortage, some software developer skills are more valuable than others. Certain competencies are tremendously more valuable -- and surprising. One example: Even though Cobol is an older language, many younger developers don't know it and aren't interested in learning it, which means that programmers who enjoy it are in big demand in some enterprises.
In general, a Funders and Founders survey shows developers who know C++ make an average salary of around $110,000, while a JavaScript designer is only going to bring in around $60,000 a year. So to get the highest possible paychecks, you'll want to know those cutting edge languages and development methodologies. Data from research firm Burning Glass highlights that clearly. Job postings for mobile developers jumped 135% since 2011, while Web developer jobs grew only 3% and UX job postings grew only 15%.
And the growth in job postings accurately reflects the salaries. The average advertised mobile designer salary was more than $111,000, substantially higher than what's on offer for a Web developer (around $87,000) or a UX expert (just more than $99,000).
Even if you have the tech chops, there's no relaxing because employers are also looking for what Burning Glass calls "hybrids," who are people with a combination of business and technical skills. If you can comfortably meet with customers, read a spreadsheet and code your brains out, chances are you're already well-employed and well-paid. Congratulations!
View All Photo Stories