News
Stay informed about the latest enterprise technology news and product updates.
The average software developer salary is (mostly) going up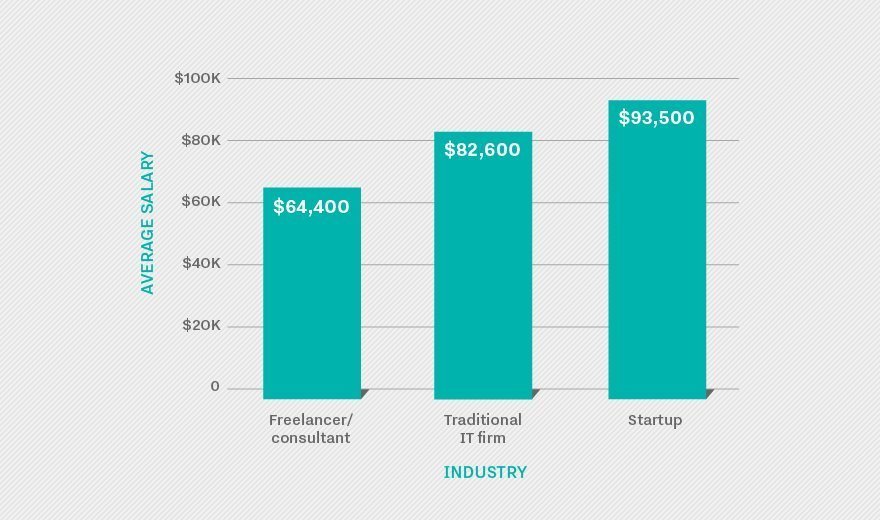 Source:
Christopher Seero/TechTarget
Designer:
Christopher Seero
Because nearly every major company in the world needs software developers, coders have almost limitless choices of where to live. It used to be the best cities for software developers were clustered in Seattle, Silicon Valley and the East Coast.
Today there are more job postings in Detroit for developers than for manufacturing jobs, so it's possible to get a good software job nearly anywhere. Also, with the shortage, many companies are forced to be flexible about remote workers, something that can give developers even more choice. But it does pay, so to speak, to be aware of which types of opportunities are more likely to compensate the best, regardless of skills.
According to a Funders and Founders survey in late 2014, software developers will get paid the most money at a startup -- an average of more than $93,000 -- but it is worth paying attention to the startup's size. Those with 51 to 200 employees can and do pay the most; smaller startups, those with 11 to 20 employees, pay the least. If coders want to work for a traditional IT firm, it pays to be a data scientist. That's the highest paying profession, according to this research, at $120,000 per year. Or go to a startup and focus on front end design or UX, both of which will pay close to $100,000 a year.
View All Photo Stories