Agile DevOps
DevOps and Agile are closely aligned and stand in opposition to the traditional Waterfall approach. Both emphasize breaking down the process in to small portions and DevOps specifically breaks out responsibilities for both developers and those on the operations side. Agile has achieved widespread adoption at this point while DevOps is on the rise.

Download this free guide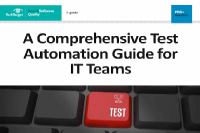 24-Page Test Automation Guide for IT Teams
Software developers increasingly turn to automated testing tools and workflows to speed up testing regimens while ensuring better consistency and completeness in the QA process, but success demands a high level of understanding. Here is your one-stop shop for test automation. This guide walks through the benefits and challenges, how to craft an automated testing strategy, and how to compare tools.