Manage
Learn to apply best practices and optimize your operations.
Architectural Risk Analysis -- Chapter 5, Software Security: Building Security In
Architectural risk analysis plays an essential role in any solid software security program. By explicitly identifying risk, you can create a good general-purpose measure of software security, especially if you track risk over time. So, how do you do that? This chapter explains.

Software Security: Building Security In
By McGraw, Gary
Published by AWP
Series: Addison-Wesley Software Security Series
ISBN: 0321356705; Published: 1/29/2006; Copyright 2006; Pages: 448; Edition: 1
Click here for more information or to buy the book


---
As a registered member of SearchAppSecurity.com, you're entitled to a complimentary copy of Chapter 5 of Software...
Continue Reading This Article
Enjoy this article as well as all of our content, including E-Guides, news, tips and more.
Security: Building Security In written by Gary McGraw and published by Addison Wesley Professional. "Architectural Risk Analysis" helps you identify risk, thereby creating a good general-purpose measure of software security, especially if you track risk over time.
---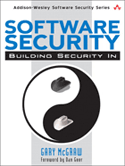 Book description:
Beginning where the best-selling book Building Secure Software left off, Software Security teaches you how to put software security into practice. The software security best practices, or touch points, described in this book have their basis in good software engineering and involve explicitly pondering security throughout the software development lifecycle. This means knowing and understanding common risks (including implementation bugs and architectural flaws), designing for security, and subjecting all software artifacts to thorough, objective risk analyses and testing.
Software Security is about putting the touch points to work for you. Because you can apply these touch points to the software artifacts you already produce as you develop software, you can adopt this book's methods without radically changing the way you work. Inside you'll find detailed explanations of the following:
Risk management frameworks and processes
Code review using static analysis tools
Architectural risk analysis
Penetration testing
Security testing
Abuse case development
In addition to the touch points, Software Security covers knowledge management, training and awareness, and enterprise-level software security programs.
>> Read Chapter 5: Architectural Risk Analysis now.
>> Buy the book
---
Dig Deeper on Building Software Project Teams