Manage
Learn to apply best practices and optimize your operations.
Automated Defect Prevention: Best Practices in Software Management, Chapter 1 -- The Case for Automa
An emphasis on bug prevention and automation makes Automated Defect Prevention a unique software methodology. Read this free chapter for more information.

As a registered member of SearchSoftwareQuality.com, you're entitled to a complimentary copy of Chapter 1 of Automated Defect Prevention: Best Practices in Software Management written by Dorota Huizinga and Adam Kolawa and published by Wiley IEEE Computer Society Press. " The Case for Automated Defect Prevention" describes this technique and where it fits in with software development. ADP was adapted from an approach used by software vendor Parasoft and is best suited to an iterative development process. This and every chapter contains a basic glossary.
Continue Reading This Article
Enjoy this article as well as all of our content, including E-Guides, news, tips and more.
---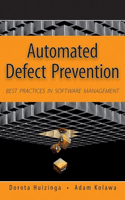 Book description:

This book describes an approach to software management based on establishing an infrastructure that serves as the foundation for the project. This infrastructure defines people roles, necessary technology, and interactions between people and technology. This infrastructure automates repetitive tasks, organizes project activities, tracks project status, and seamlessly collects project data to provide measures necessary for decision making. Most importantly, this infrastructure sustains and facilitates the improvement of human-defined processes.
The methodology described in the book, which is called Automated Defect Prevention (ADP) stands out from the current software landscape as a result of two unique features: its comprehensive approach to defect prevention, and its far-reaching emphasis on automation. ADP is a practical and thorough guide to implementing and managing software projects and processes. It is a set of best practices for software management through process improvement, which is achieved by the gradual automation of repetitive tasks supported and sustained by this flexible and adaptable infrastructure, an infrastructure that essentially forms a software production line.
In defining the technology infrastructure, ADP describes necessary features rather than specific tools, thus remaining vendor neutral. Only a basic subset of features that are essential for building an effective infrastructure has been selected. Many existing commercial and non-commercial tools support these, as well as more advanced features. Appendix E contains such a list.
>> Read Chapter 1: The Case for Automated Defect Prevention.
>> Buy the book
---
Dig Deeper on Software Development Fundamentals