Manage
Learn to apply best practices and optimize your operations.
CMMI: Guidelines for Process Integration and Product Improvement, Second Edition -- Chapter 1, About
Capability Maturity Model Integration (CMMI) is a popular project management method for the software development life cycle. This free chapter will help you determine whether CMMI might work for your development process.

As a registered member of SearchSoftwareQuality.com, you're entitled to a complimentary copy of Chapter 1 of CMMI: Guidelines for Process Integration and Product Improvement, Second Edition written by Mary Beth Chrissis, Mike Konrad and Sandy Shrum and published by Addison-Wesley Professional. " About CMMI for Development" defines CMMI and explains its history and evolution. This introductory chapter presents descriptions of the two representations in CMMI, staged and continuous, and lists their advantages and disadvantages. In addition, there is a section on CMMI and Six Sigma.
---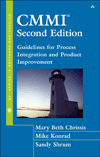 Book description:

CMMI® (Capability Maturity Model® Integration) describes best practices for the development and maintenance of products and services across their entire lifecycle. By integrating essential bodies of knowledge, CMMI provides a single, comprehensive framework for organizations to assess their development and maintenance processes, implement improvements, and measure progress.
This book is a definitive reference for the most current release of CMMI (version 1.2). In the new edition, the authors have added tips, hints, and cross-references in the margins (in color) throughout the process areas to help you better understand, apply, and find more information about the content of the process areas. The book also now includes brief, insightful perspectives on CMMI written by people influential in the model's creation, development, and transition. A new case study from Raytheon illustrates a real-world application of the model to a services organization. Whether you are new to CMMI or familiar with an earlier version, if you need to know about, evaluate, or put the latest version of CMMI into practice, this book is an essential resource.
The book is divided into three parts.
Part I offers the broad view of CMMI, beginning with basic concepts of process improvement. It describes the process areas, their components, and their relationships to each other. It explains the model's two representations as well as paths to the adoption and use of CMMI for process improvement and benchmarking.
Part II, the bulk of the book, details the generic goals and practices and the 22 process areas now comprising CMMI. The process areas are organized alphabetically by acronym for easy look-up. Each chapter includes goals, best practices, and examples for a particular process area. The two CMMI representations are described so that you will easily see their similarities and differences and thereby be better able to choose the right approach for your organization.
Part III contains several useful resources, including CMMI-related references, acronym definitions, a glossary of terms, and an index.
This chapter is excerpted from the book, "CMMI, 2nd Edition: Guidelines for Process Integration and Product Improvement," authored by Mary Beth Chrissis, Mike Konrad and Sandy Shrum, published by Addison-Wesley Professional in November, 2006, ISBN 0321279670. Copyright 2007 Pearson Education, Inc.
>> Read Chapter 1: About CMMI for Development.
>> Buy the book
---