Manage
Learn to apply best practices and optimize your operations.
Implementing ITIL Configuration Management: Chapter 3, Determining Scope, Span and Granularity
Software professionals are familiar with the Information Technology Infrastructure Library (ITIL) but may not know how these best practices affect configuration management. This free chapter explains how ITIL can be used in some software projects.

As a registered member of SearchSoftwareQuality.com, you're entitled to a complimentary copy of Chapter 3 of Implementing ITIL Configuration Management written by Larry Klosterboer and published by Addison Wesley Professional. " Determining Scope, Span and Granularity" explores the structure of the configuration management database (CMDB). In this chapter, readers learn how to understand the elements of scope, span and granularity as they relate to each other and to the CMDB.
---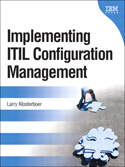 Book description:

The IT Infrastructure Library® (ITIL) places the "best practices" in IT operations at your command. ITIL helps you make better technology choices, manages IT more effectively, and drives greater business value from all your IT investments. The core of ITIL is configuration management: the discipline of identifying, tracking, and controlling your IT environment's diverse components to gain accurate and timely information for better decision-making.
Now, there's a practical, start-to-finish guide to ITIL configuration management for every IT leader, manager and practitioner. ITIL-certified architect and solutions provider Larry Klosterboer helps you establish a clear roadmap for success, customize standard processes to your unique needs, and avoid the pitfalls that stand in your way.
You'll learn how to plan your implementation, deploy tools and processes, administer ongoing configuration management tasks, refine ITIL information and leverage it for competitive advantage. Throughout, Klosterboer demystifies ITIL's jargon, illuminates each technique with real-world advice and examples, and helps you focus on the specific techniques that offer maximum business value in your environment.
Coverage includes:
Assessing your current configuration management maturity and setting goals for improvement
Gathering and managing requirements to align ITIL with organizational needs
Describing the schema of your configuration management database (CMDB)
Identifying, capturing, and organizing configuration data
Choosing the best tools for your requirements
Integrating data and processes to create a unified logical CMDB and configuration management service
Implementing pilot projects to demonstrate the value of configuration management and to test your planning
Moving from a pilot to wide-scale enterprise deployment
Defining roles for deployment and ongoing staffing
Leveraging configuration management information: Reporting and beyond
Measuring and improving CMDB data accuracy
>> Read Chapter 3: Determining Scope, Span and Granularity.
>> Buy the book
---
This chapter is excerpted from the book, Implementing ITIL Configuration Management, authored by Larry Klosterboer, published by IBM Press, an imprint of Pearson Education, December, 2007. ISBN 978-0-13-242593-3. For more information please visit ibmpress.com. Implementing ITIL Configuration Management is also Safari Books Online-enabled. For owners of the print book, you will automatically receive access to the online edition for 45 days by following the steps in the back of the book. For those who are interested in the online edition but are not yet Safari subscribers, you can try a free Safari pass here: www.Informit.com/safaripass.