Manage
Learn to apply best practices and optimize your operations.
InfoSecurity 2008 Threat Analysis, Chapter 4: XSS Theory
Application security threats are becoming more complex than ever before. This free chapter explains what cross-site scripting (XSS) is, how it is exploited and what can be done to counter it.

As a registered member of SearchSoftwareQuality.com, you're entitled to a complimentary copy of Chapter 4 of InfoSecurity 2008 Threat Analysis written by Craig Schiller and published by Syngress, a division of Elsevier. " XSS Theory" provides a detailed breakdown of cross-site scripting vulnerabilities and exploits. This hefty chapter doesn't skimp on code samples and details but clear writing makes it appropriate for the novice. A section on cross-site request forgery (CSRF) is also included. Jeremiah Grossman and Robert "RSnake" Hansen are among the security experts who contributed their knowledge to this book.
---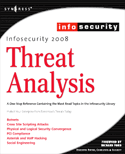 Book description:

An all-star cast of authors analyze the top IT security threats for 2008 as selected by the editors and readers of Infosecurity Magazine. This book, compiled from the Syngress Security Library, is an essential reference for any IT professional managing enterprise security. It serves as an early warning system, allowing readers to assess vulnerabilities, design protection schemes and plan for disaster recovery should an attack occur. Topics include Botnets, Cross-Site Scripting Attacks, Social Engineering, Physical and Logical Convergence, Payment Card Industry (PCI) Data Security Standards (DSS), Voice over IP (VoIP), and Asterisk Hacking. Each threat is fully defined, likely vulnerabilities are identified, and detection and prevention strategies are considered. Wherever possible, real-world examples are used to illustrate the threats and tools for specific solutions.
Features and benefits


Provides IT Security Professionals with a first look at likely new threats to their enterprise.
Includes real-world examples of system intrusions and compromised data.
Provides techniques and strategies to detect, prevent, and recover.
Includes coverage of PCI, VoIP, XSS, Asterisk, Social Engineering, Botnets, and Convergence.
>> Read Chapter 4: XSS Theory.
>> Buy the book
---
Printed with permission from Syngress, a division of Elsevier. Copyright 2008. "InfoSecurity 2008 Threat Analysis" by Craig Schiller. For more information about this title and other similar books, please visit www.syngress.com.
Dig Deeper on Building security into the SDLC (Software development life cycle)