Manage
Learn to apply best practices and optimize your operations.
Inherent Quality Simplicity, Section V: The Evolution
Those interested in seriously pursuing quality in software will find a kindred spirit in Ron Richard, author of "Inherent Quality Simplicity." Read this free book excerpt to discover a unique take on quality.

As a registered member of SearchSoftwareQuality.com, you're entitled to a complimentary copy of Section 5 of Inherent Quality Simplicity written by Ron Richard and self-published by the author. " The Evolution" projects a bright future for IT, for the people who work in IT, for the consumers and for the technology itself. The author proposes a quality movement, offering current examples of progress in quality and a list of current hindrances. Ideally, quality becomes a self-fulfilling cycle as more strive for it.
---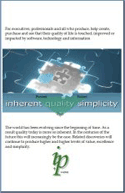 Book description:

This unique book teaches simple and powerful ways to make quality an inherent element in IT -- and beyond. One may begin by building upon quality-oriented, ethical and socially responsible movements already in effect. "Inherent Quality Advocates" or "Inherent Quality Solutions Architects" are people who can set these positive wheels in motion. Becoming an IQA or an IQSA isn't difficult, explains author Ron Richard.
This book does not contain a table of contents. Readers instead progressively discover sections. For your convenience the sections are: I) The Book, II) The Mindset, III) The Beauty, IV) The Architect, V) The Evolution, VI) The Results, VII) The Revelation.
Inherent Quality Simplicity is for executives, professionals and all who produce, help create, purchase and see that their quality of life is touched, improved or impacted by software, technology and information. Grasp the essence. Find your purpose.
>> Download the excerpt now. If you act quickly and are among the first ten people to download the excerpt, you will receive a free copy of the book compliments of TechTarget and the author. To be eligible, simply send your name, address, phone number and email address to editor@SearchSoftwareQuality.com.
>>If you missed out on receiving a free copy of the book, you may still purchase it at a discount price of $20.20. Visit Bookmark Bookstore for more information about Inherent Quality Simplicity and to buy a copy of the book.
Note: To get the discount rate, you must enter a "coupon code." That code is 11256.
---