Manage
Learn to apply best practices and optimize your operations.
Patterns for Effective Use Cases -- Chapter 1, What Is a Quality Use Case?
Use cases can have a tremendous impact on software requirements gathering, development and the final product. This free book excerpt explains how to create use cases that are effective.

As a registered member of SearchSoftwareQuality.com, you're entitled to a complimentary copy of Chapter 1 of Patterns for Effective Use Cases written by Steve Adolph, Paul Bramble, Alistair Cockburn and Andy Pols and published by Addison-Wesley Professional. " What Is a Quality Use Case?" introduces use case pattern languages and pattern forms. A sample pattern is included, as is a brief tutorial on writing use cases.
---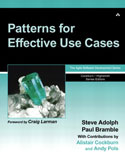 Book description:

Use cases have become an integral part of modeling software requirements, but many software developers are discovering that writing effective use cases is more difficult than they had anticipated. An understanding of the basic principles of use cases is not enough. Software developers need a source of objective criteria by which to judge quality and effectiveness.
Patterns for Effective Use Cases provides this set of objective criteria. Written by experienced use case practitioners, this book fills a critical information gap by presenting a pattern language that contains over thirty patterns, providing simple, elegant, and proven solutions to the most common problems in use case development. These patterns distill and define the properties and characteristics of quality use cases. As such, they facilitate the development of original use cases and provide a diagnostic tool for evaluating existing ones.
The book opens with a review of use cases and pattern fundamentals, along with a discussion of the requirements-gathering team. These patterns address the use case development process, the internal structure of use cases, and the relationships among use cases within the system as a whole. Examples of patterns include:
BreadthBeforeDepth
VisibleBoundary
EverUnfoldingStory
IntentionRevealingName
PreciseAndReadable
LeveledSteps
InterruptsAsExtensions
RedistributeTheWealth
Each pattern discussion includes at least one example demonstrating its real-world application, highlighting both the benefits of using the pattern and the consequences of not doing so. In addition, the book presents guidelines for the effective use of UML with relevant patterns.
Anyone involved in use case writing or requirements gathering will find Patterns for Effective Use Cases an indispensable handbook and reference.
>> Read Chapter 1: What Is a Quality Use Case?.
>> Buy the book
---
This chapter is excerpted from the book, Patterns for Effective Use Cases, authored by Steve Adolph, Paul Bramble, Alistair Cockburn, Andy Pols, published by Addison-Wesley Professional, August, 2002, Copyright Pearson Education, Inc. ISBN 0201721848. For more information please visit: www.awprofessional.com