Manage
Learn to apply best practices and optimize your operations.
Professional VB 2005 -- Chapter 13: Security in the .NET Framework 2.0
Application security tools and security features are included in the latest version of VB.NET. Learn about these Web app security features in this free book excerpt.

As a registered member of SearchSoftwareQuality.com, you're entitled to a complimentary copy of Chapter 13 of Professional VB 2005 written by Bill Evjen, Billy Hollis, Rockford Lhotka, Tim McCarthy, Rama Ramachandran, Kent Sharkey, and Bill Sheldon and published by John Wiley & Sons.

This chapter, "Security in the .NET Framework 2.0," covers the basics of application security and cryptography. After reviewing the security architecture of the .NET Framework and the four types of security -- NTFS (NT file system), security policies, cryptographic and programmatic, the authors then examine the security tools and functionality the .NET Framework provides.
---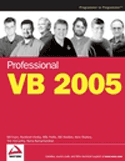 Book description:
Professional VB 2005 Visual Basic .NET has changed dramatically from its predecessor, and this book shows developers how to build traditional console applications, ASP.NET applications, XML Web Services, and more.
The top-notch author team shares their years of experience in VB programming and helps readers take their skills to new heights. The authors address issues such as Web security, data access (ADO.NET), and the latest Visual Studio .NET IDE. Other issues they explore include Common Language Runtime, variables and data types, object syntax, inheritance and interfaces, Windows forms, error handling and debugging, XML, namespaces, and advanced features of the latest version of ASP.NET.
>> Read "Security in the .NET Framework 2.0" now.
>> Buy the book
---