Requirements Management Using IBM Rational RequisitePro: Chapter 1, Requirements Management
Requirements management is made easier through planning and tools. This free chapter introduces readers to requirements gathering and how IBM Rational RequisitePro can be used to engineer and maintain requirements.

As a registered member of SearchSoftwareQuality.com, you're entitled to a complimentary copy of Chapter 1 of Requirements Management Using IBM Rational RequisitePro written by Peter Zielczynski and published by IBM Press. " Requirements Management" offers an overview of the basics. The chapter begins by defining what requirements and stakeholders, explains traceability and the attributes of good requirements and ends with a short guide to requirements management.
---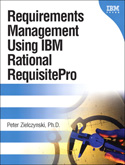 Book description:

Using IBM® Rational® RequisitePro®, you can systematically improve the way you create and maintain requirements and use those requirements to build more effective, higher-quality software. Now, for the first time, there's a comprehensive, hands-on guide to optimally using RequisitePro in real-world development environments.
Utilizing a start-to-finish sample project, requirements expert Peter Zielczynski introduces an organized, best-practice approach to managing requirements and shows how to implement every step with RequisitePro. You'll walk through planning, eliciting and clarifying stakeholder requirements; building use cases and other key project documents; managing changing requirements; transforming requirements into designs; and much more. Every stage of the process is illuminated with examples, realistic artifacts and practical solutions.
This book is an invaluable resource for everyone who creates requirements, and everyone who relies on them: business analysts, systems analysts, project managers, architects, designers, developers and testers alike.
Coverage includes:


Overcoming the three leading causes of project failure: lack of user input, incomplete requirements and specifications and poorly managed change.
Understanding each type of software requirement -- how they interrelate and what makes a good requirement.
Establishing a Requirements Management Plan that describes how requirements are created and handled throughout the project lifecycle.
Developing a Vision document that can drive your project from beginning to end.
Creating high-quality use cases.
Using requirements as the basis for system design.
Leveraging RequisitePro features for improved project management.
Integrating requirements management with the IBM Rational Unified Process®.
>> Read Chapter 1: Requirements Management.
>> Buy the book
---
This chapter is excerpted from the book, Implementing Requirements Management Using IBM Rational RequisitePro, authored by Larry Peter Zielczynski, published by IBM Press, an imprint of Pearson Education, December, 2007. ISBN 9780321383006. For more information please visit ibmpress.com. Implementing Requirements Management Using IBM Rational RequisitePro is also Safari Books Online-enabled. For owners of the print book, you will automatically receive access to the online edition for 45 days by following the steps in the back of the book. For those who are interested in the online edition but are not yet Safari subscribers, you can try a free Safari pass here: www.Informit.com/safaripass.