Manage
Learn to apply best practices and optimize your operations.
Six Forms of Software Cost Estimation -- Chapter 3, Estimating Software Costs, Second Edition
Software cost estimation is complex and challenging. By understanding the six methods of estimating software costs, you can decide which is best for your project.

As a registered member of SearchSoftwareQuality.com, you're entitled to a complimentary copy of Chapter 3 of Estimating Software Costs, Second Edition written by Capers Jones and published by The McGraw-Hill Companies.

This excerpt -- " Six forms of software cost estimation" -- reviews six methods of estimating software costs used by corporations and government groups, divided into two categories -- manual software-estimating methods and automated software-estimating methods. Jones then compares the two to see how close they were to projects' actual results.
---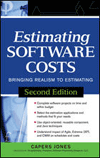 Book description:
Get a clear, complete understanding of how to estimate software costs, schedules, and quality using the real-world information contained in this comprehensive volume. Find out how to choose the correct hardware and software tools, develop an appraisal strategy, deploy tests and prototypes, and produce accurate software cost estimates.

In addition, you'll get full coverage of cutting-edge estimating approaches using Java, object-oriented methods, and reusable components.

You will learn how to do the following:
Plan for and execute project-, phase-, and activity-level cost estimations
Estimate regression, component, integration, and stress tests
Compensate for inaccuracies in data collection, calculation, and analysis
Assess software deliverables and data complexity
Test design principles and operational characteristics using software prototyping
Handle configuration change, research, quality control, and documentation costs
>> Read "Six forms of software cost estimation" now.
>> Buy the book
---
Dig Deeper on Software Project Management Process