Manage
Learn to apply best practices and optimize your operations.
The Economics of Open Source Software Development -- Chapter 1, An Introduction
Open source software development has caused profound changes in the software industry. This book excerpt explains the economics and the basics of this software development process.

As a registered member of SearchSoftwareQuality.com, you're entitled to a complimentary copy of Chapter 1 of The Economics of Open Source Software Development by Jürgen Bitzer and Philipp J. H. Schröder and published by Morgan Kaufmann, a division of Elsevier. Chapter 1 introduces the fundamentals of open source software, its nature, the central economic aspects and the key mechanisms of its development. Furthermore, this chapter presents the themes of the book and provides an overview of each chapter.
Continue Reading This Article
Enjoy this article as well as all of our content, including E-Guides, news, tips and more.
---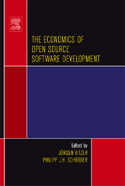 Book description:

Open Source Software (OSS) development appears to present a stark contrast to traditional production and innovation methods and an unlikely contestant in the marketplace. Some of the most striking features are that OSS development is based on contributions of volunteer programmers, that these programmers only associated with each other through informal communities, that the resulting software products are made available for free, and that this unconventional development method is able to produce software of high complexity and extraordinary quality.
Obviously, the emergence of software has fundamentally changed the software business. The simple facts that production is carried out by voluntary private programmers and that the marketable outcomes are supplied to consumers for free, have resulted in far-reaching effects on market structures, business models, and innovation processes in the software industry. While incumbents had to adapt their strategies to this newly emerging competition, OSS-based firms had to develop viable business models enabling them to generate profits. These fundamental changes in the software industry have subsequently attracted the interest of analysts, business people and research in economics and management science.
>> Read Chapter 1: .
>> Buy the book
---
Printed with permission from Elsevier Science. Copyright 2007. "The Economics of Open Source Software Development," edited by Jürgen Bitzer and Philipp J.H. Schröder. For more information about this title, please visit www.books.elsevier.com.
Dig Deeper on Software ROI and Business Analysis