Essential Guide
IT project evaluation and portfolio management guide for CIOs
A comprehensive collection of articles, videos and more, hand-picked by our editors
Scrum
Scrum is a project management concept for software development that revolves around the use of multiple small teams working in an intensive, interdependent manner... (Continued)
FROM THE ESSENTIAL GUIDE:
Scrum is an agile software development model based on multiple small teams working in an intensive and interdependent manner. The term is named for the scrum (or scrummage) formation in rugby, which is used to restart the game after an event that causes play to stop, such as an infringement.
Top Development Terms to Know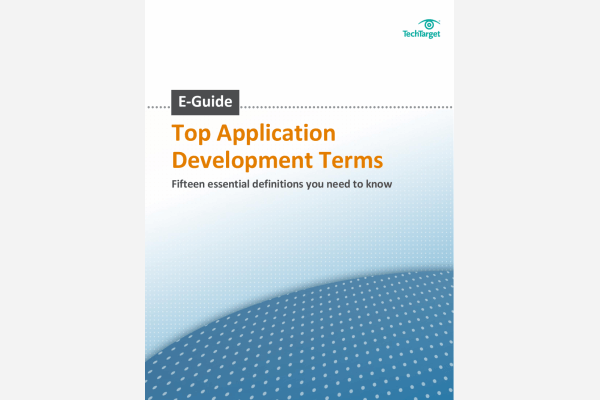 Use this quick guide to bone up on your knowledge of the 15 most popular development terms right now.
By submitting your personal information, you agree to receive emails regarding relevant products and special offers from TechTarget and its partners. You also agree that your personal information may be transferred and processed in the United States, and that you have read and agree to the Terms of Use and the Privacy Policy.

Scrum employs real-time decision-making processes based on actual events and information. This requires well-trained and specialized teams capable of self-management, communication and decision-making. The teams in the organization work together while constantly focusing on their common interests.
Scrum involves:
Initial appointment of a project manager called the "scrum master."
Definition and prioritization of tasks to be done.
Planning sessions for each task.
Daily meetings among teams.
Identification and evaluation of potential project risks and process pitfalls.
Execution of projects in brief, high-intensity, frequent work sessions.
Reviews of progress and evaluations of completed projects.
Openness to constructive criticism and ideas for improvement.
The scrum concept was introduced by Hirotaka Takeuchi and Ikujiro Nonaka in a 1986 article in The Harvard Business Review, "The New New Product Development Game" The original context was manufacturing. Jeff Sutherland, John Scumniotales and Jeff McKenna are credited with adopting, implementing and documenting the model for software development at Easel Corporation in 1993. In 1995, Ken Schwaber presented an influential white paper at OOPSLA, "SCRUM Development Process."
Continue Reading About Scrum